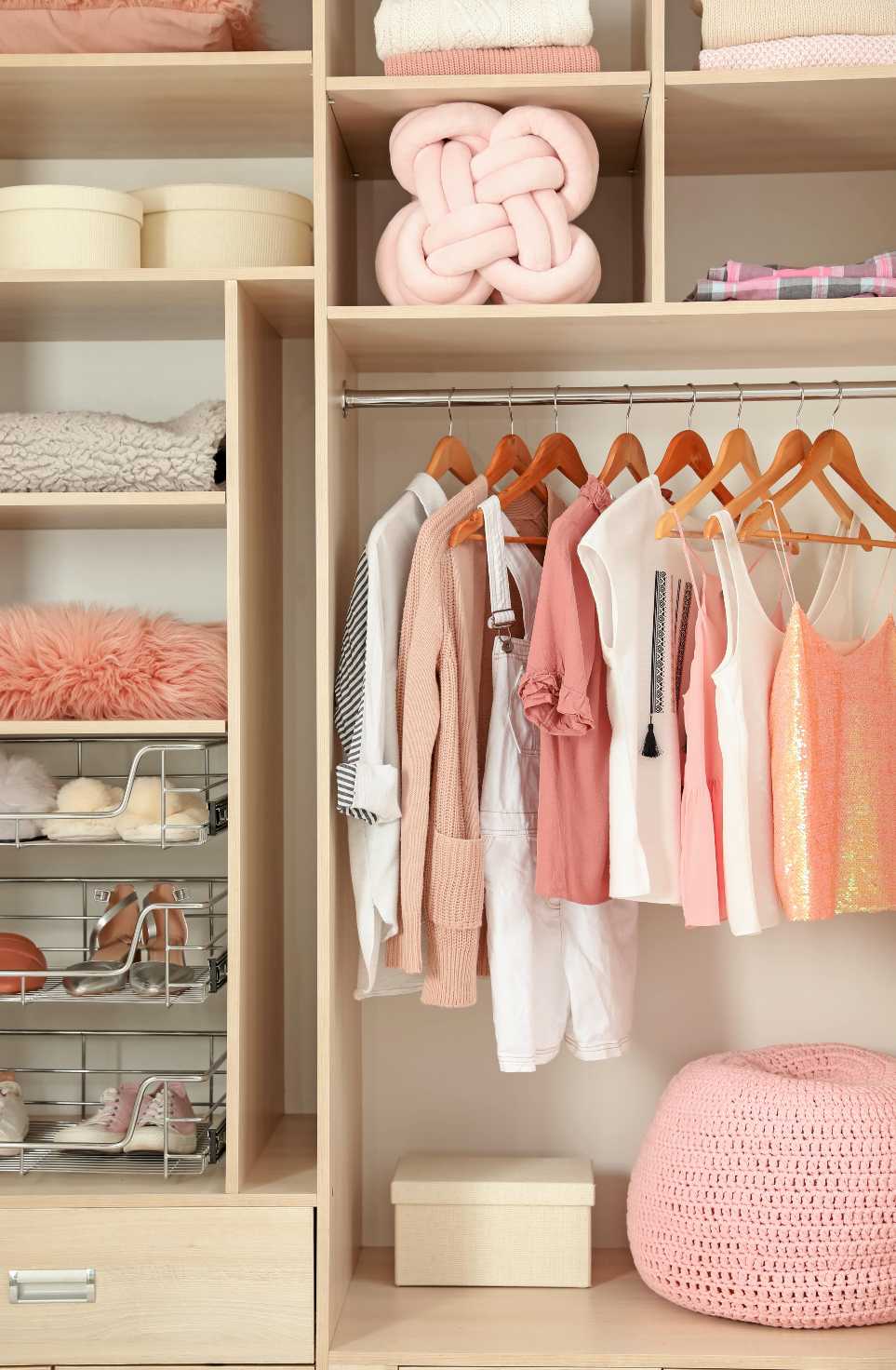 Children accumulate a lot of things. Because they grow so quickly, clothing storage can easily become a problem for a lot of parents. You may be at a loss for how you can optimize your current storage space or expand its capacity.
We've compiled a list of several ways you can adapt your child's closet to be more efficient. All of these projects will not only increase the ease to which you can find your kid's clothing, but they will also multiply the amount of space you have to store toys and other items.
Layered Shelving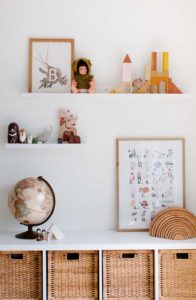 Unlike adult closets, kid closets don't require as much vertical space to store clothing. Because of this, you may find that a traditional closet arrangement leaves you with a lot of empty space. To help maximize this space, you can add layered shelves.
Vertical Shelving
Adding vertical shelving is a simple project that can be completed in about an hour. You can keep your existing shelving to build upon or remove it for a clean slate. Measure your space and purchase wood shelves and brackets from your local hardware store.
Install the first shelf close to the top of the closet. You can use baskets in this area to store items that aren't used often. The second shelf should be installed at a standard height.
You can then add a clothing bar. Place a dresser at the bottom of the closet to maximize the rest of your storage space.
Pre-Bought Shelving
Instead of going through the trouble of installing shelves, you can purchase any shelving unit that will fit inside the closet space. Simply place it on the floor of the closet to fill empty space.
You can also choose to put a taller bookshelf on one side of the closet. For this, you'll need to remove the built-in shelf. Then, cut the clothing bar to fit between the new shelving unit and the opposite wall of the closet. Install with required hardware.
For even more space, install two or three clothing bars that span from the top to the bottom of the shelf insert.
Cubbies
If you need to store more than clothes in your child's closet, then adding a cubby space is the perfect way to do it. They're more versatile than shelves because they create designated divides between items.
Center Cubby
A great way to add form and function to the closet space is by inserting a center cubby. This can either be built or store-bought, but it needs to be one-third of the width of your closet space.
It also needs to be tall enough to reach from the floor to the ceiling or to a built-in shelf. Follow all installation instructions that come with your shelving unit, and be sure to secure it to the wall for additional safety.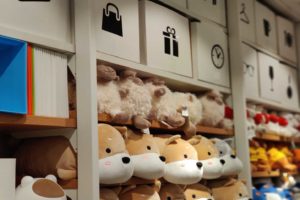 Next, you have two options. You can either cut your existing bar to fit or purchase two new bars. Either way, you will need to install one on each side of the closet, running from the wall to the center cubby unit.
To maximize floor space, you can add small dressers or large baskets for stuffed animals and toys. These should be placed on either side of the central cubby.
Add a dash of fun to this design by painting the center unit a bold color or covering it in a funky wallpaper.
Floor Cubby
Like keeping a dresser in your kid's closet, adding a cubby unit on the floor gives you more storage space. Unlike a dresser, though, this space is very versatile.
Of course, you can use baskets to store off-season or casual clothing. You can also use empty cubbies to store large toys, stuffed animals, and changing items.
Additionally, the top of the cubby unit can be used to store shoes in an organized manner that is easily accessible to your child.
Add Play Space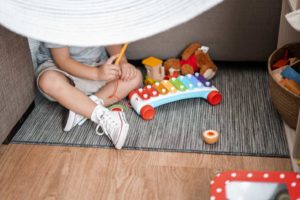 If you keep most of your children's clothes in storage, then you may find yourself with way too much space in the closet. If this is the case, why not utilize that area to give your kid an extra place to play?
A great way to do this is by adding a large shelf toward the bottom of the closet, typically at sitting height for your child. This area is perfect for toys that cause a lot of clutter, like trains or building blocks.
You can amplify this project by adding a Lego board to the top of the shelf and hanging baskets to hold Lego pieces. This easy project will keep you from stepping on one every time you walk into the room.
Vintage and Industrial Chic
Not all closet organization needs to look the same. There are plenty of other options if you're bored with plain, modern shelving. Why not utilize some vintage and industrial items in your closet design?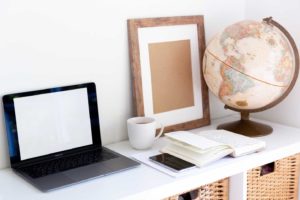 Found Items
Thrift stores and second-hand shops often have some great finds that just need a little love. Go on a search for some unique, victorian shelves. They will give an elegant look to the closet of any princess room.
You can also find used dressers and shelves that can reduce the costs of other storage ideas we've mentioned. Just pick up some paint and brushes to customize your bargain find.
Metal Storage
There are a lot of fun items you can use to store your children's clothing and toys.

Metal lockers and bins can add an edgy look to the space while still providing ample organization.
Replace a center cubby unit with a metal locker for a sporty look. Lockers can also be placed outside of the closet for additional storage space. Instead of using fabric cubbies, use metal tubs or bins.
Old letterboxes can even serve a purpose! They're great for installing at the top of a kid's closet. The small drawers are perfect for socks, underwear, onesies, and small toys.
These items also weigh more, which reduces the risk of children knocking them over or breaking them.
Unconventional Closets
It's possible that your nursery or kid's room doesn't have a closet or it is very small. In this case, you may be looking for ways to store clothing and other items inside the room. Lockers are a great way to go, but here are a few more ideas:
Clothing Racks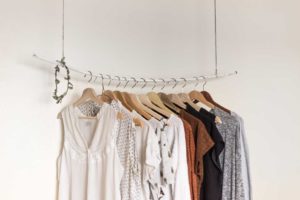 Clothing racks come in all shapes and sizes. For smaller children, it's best to stick with ones that can mount to the wall.
You can easily purchase and install a kit from any hardware store.
If you are in need of a lot of storage space, look for ones that come with shelves and/or cubbies.
In some cases, you may even be able to adapt a closet organization kit to mount inside your child's bedroom.
Pallet Shoe Rack
Do you find that your child's shoes are always getting lost at the bottom of his closet, no matter how organized it is? If so, you might want to consider mounting a shoe rack at the back of the closet or somewhere in his room.
An easy way to do this is to sand and stain a wood pallet. You can then hang it on the wall and use the slats to slide shoes into. It's a super easy project that will make your mornings go a lot smoother.