Your children's teen years are a great time to initiate a remodeling project. It's a way to show them that they are growing up and also a great way to do some family bonding with a do-it-yourself project.
A cool bathroom theme for a young man entering his teen years is the barbershop motif. It clearly demonstrates his coming of age and also promotes his newfound skills in shaving as well as making daily hygiene something that is cool to do.
Awesome bathroom remodelling ideas
There are several ways you can go with this theme and the exact elements really depend on your son and his personal style. Below are some ideas you can use to get started on this awesome bathroom remodel, as taken from the London School of Barbering and Next Luxury. The DIY Network also has plenty of inspiration for this project.
General Elements
There are some common elements in a barbershop-themed remodel regardless of the exact time period or design you choose. Standard colors used in most barbershops are black and white with pops of color. There are lots of natural elements too like wood, metal, brick, and stone. Colors are robust and manly.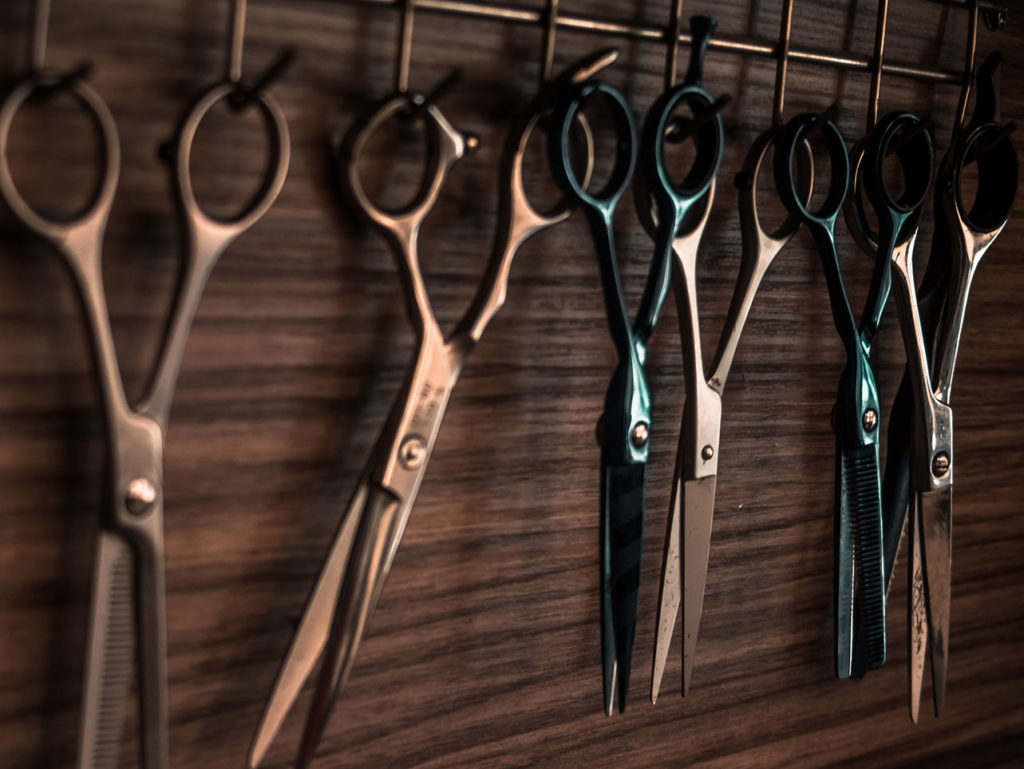 Vintage Remembered
When you talk vintage barbershops, you span so many decades that you need to narrow it down to hit your mark. There are basically three distinct styles to choose from including the 19th century, the 1920s, and 1950s to 1960s. The differences in them are vast from the floors, walls, sinks, colors, and accessories.
For those yearning for a 19th-century look, look to dark wood floors and solid wood cabinets. Cabinet hardware should reflect the antique look. Walls are painted with possibly using some stenciling in lieu of wallpaper. Stenciling can give it a modern vibe and is also more practical as wallpaper doesn't hold up in humid environments. You can use brick or masonite brick replica for a city look a planked wood can also be used on the walls for an old West feel Just make sure it's treated and waterproof.
Mirrors used in this theme are large and round with heavier, elaborate frames. You should also include a lot of metal for shelving and make sure the metal is a darker tone like black or a dark brass.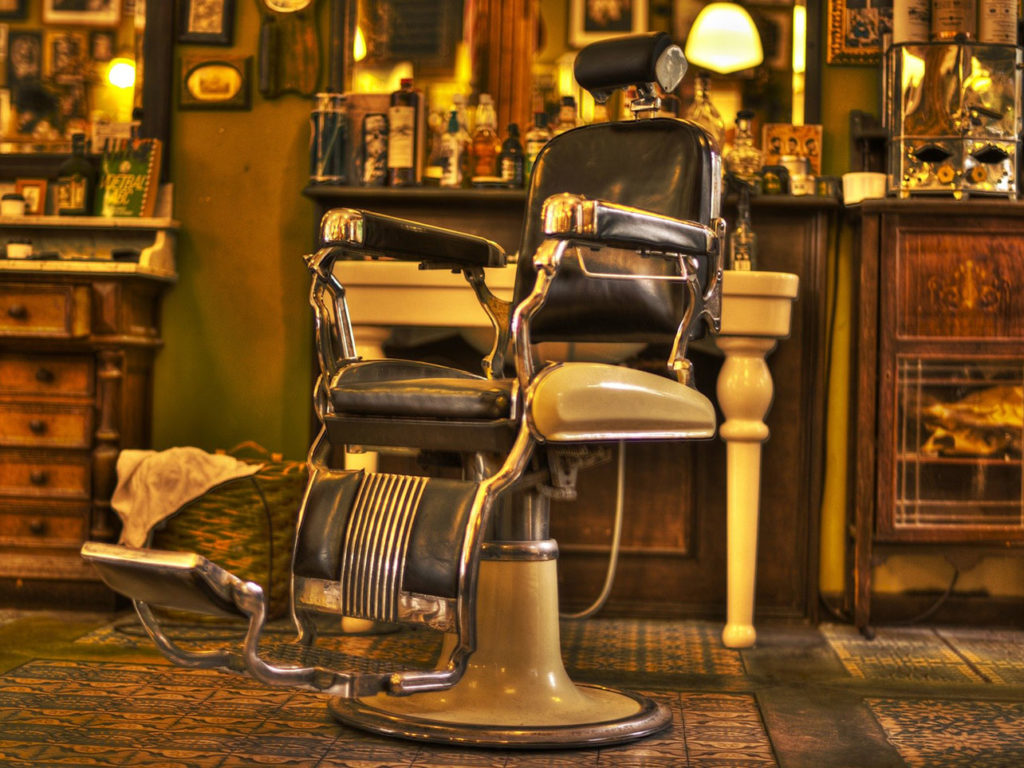 Sinks are an important element in a bathroom but are particularly important for visual interest in this type of themed bathroom. For the 19th century, a ceramic or copper vessel bowl would work well.
Other accessory elements like toiletry containers and small items should be chrome.
The idea of a 1920's style barbershop bathroom lends itself to a shabby chic look. You can use black and white checkerboard tiles or art deco tiles for the floor. Walls would look crisp in white with light-colored curtains. Gray countertops with wooden and black accents around the room make for the perfect balance of modern and vintage. Brushed nickel for faucets and hardware add a touch of modern to the vibe.
Another way to go with the 1920s style is art deco as popular in "The Great Gatsby." In this style, colors are bolder, mirrors large, elaborate, and beveled and everything had a rich tone. This type of style can be overwhelming for a teen and is a risk because it could be considered too feminine, but not if it's done correctly.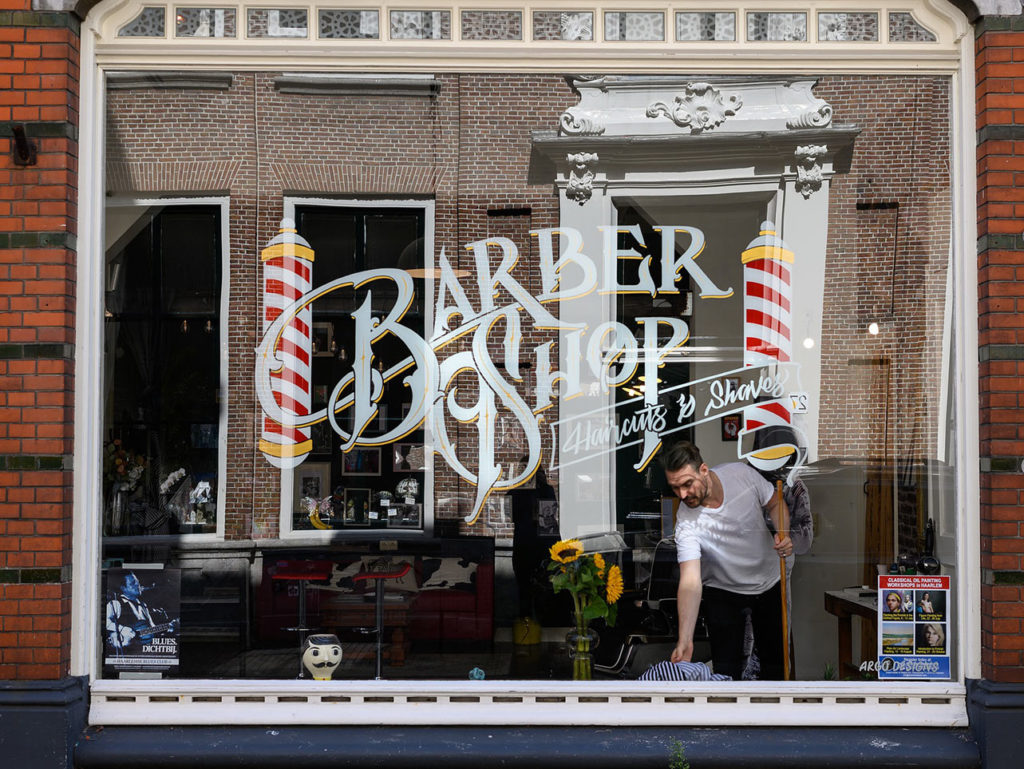 To properly carry out this theme in a DIY project, use a bold wall color that has a dark tone, such as a polo green or cobalt blue. Add lighting with copper, gold or silver elements and large etched mirrors. Countertops can have a gold or silver flake, but the cabinets need to be dark, straight-lined and simple. Accent the hardware with antique-looking brass and glass.
Drapes should be dark also, but of a nice fabric that has a sheen. Shelving should be a high-quality metal like brass or chrome, as things like towel holders and toilet roll holders.
A nice element that would work in this type of design is a towel rod that heats up your towels. There isn't any installation required and they tend to look like an antique radiator. Add shaving accessories in chrome and brass to provide function and style.
You can totally modernize the art deco barbershop theme by using a modern geometric design in the black and white tile floor, going black on the walls with silver or gold accents in shelving and geometric art.
A lot of elements change when you are looking at the 1950s and 1960s styled barbershop themes. Black and white floors are still key, but bolder colors like red, turquoise and deep blues are also used. Chrome is a huge plus for accessories, shelving, and hardware. Sinks can be chrome or black inlaid while art can be things like cool cars, and motorcycles.
Mirrors in this simple and clean and there are more of them than in a standard bathroom. Lighting is a key design element here with a more modern design focused on crisp, clean lines and more metal.
Urban Twist
Classic white and black are the key elements in urban design. Rather than wood, drywall or brick, the wall covering of choice in this design is a subway tile with white as the bright white as the color of choice. Walls, counters, the toilet, and accents can all go black for a dramatic look. Pops of color or wood can make a nice element but isn't necessary. Metal elements, like brushed nickel faucets, hardware and shelving also become essential in this type of design.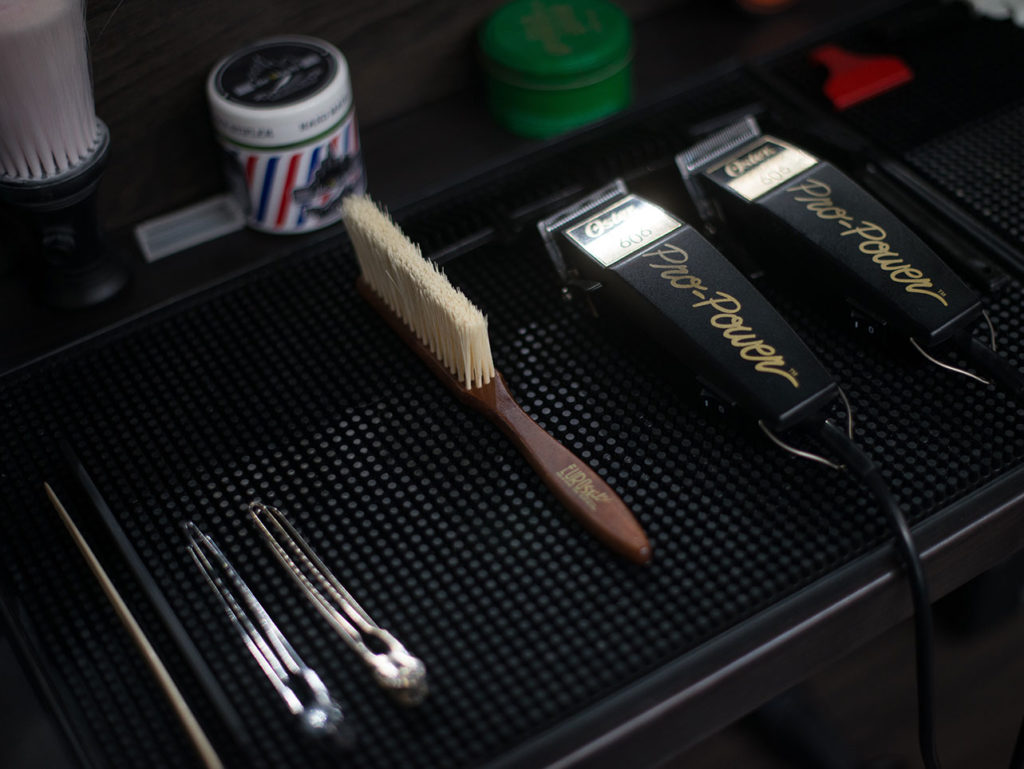 Lighting should follow the urban feel with metal and industrial elements as part of the design. Mirrors need to reflect the same clean feel with either no frame or metal or black frame to highlight them. Square sinks add cool interest.
Country Living
Those who live in a more rural area may want to consider a more country barbershop theme. The secret is to balance the rural theme with manly elements to create the perfect bathroom space for your teen.
The white shiplap makes for great walls in this design. Natural elements like exposed brick, stone and wood make for crucial elements. For a DIY project, you can mix in brown elements in the granite countertops and in accessories that include things like leather, burlap, and western metals.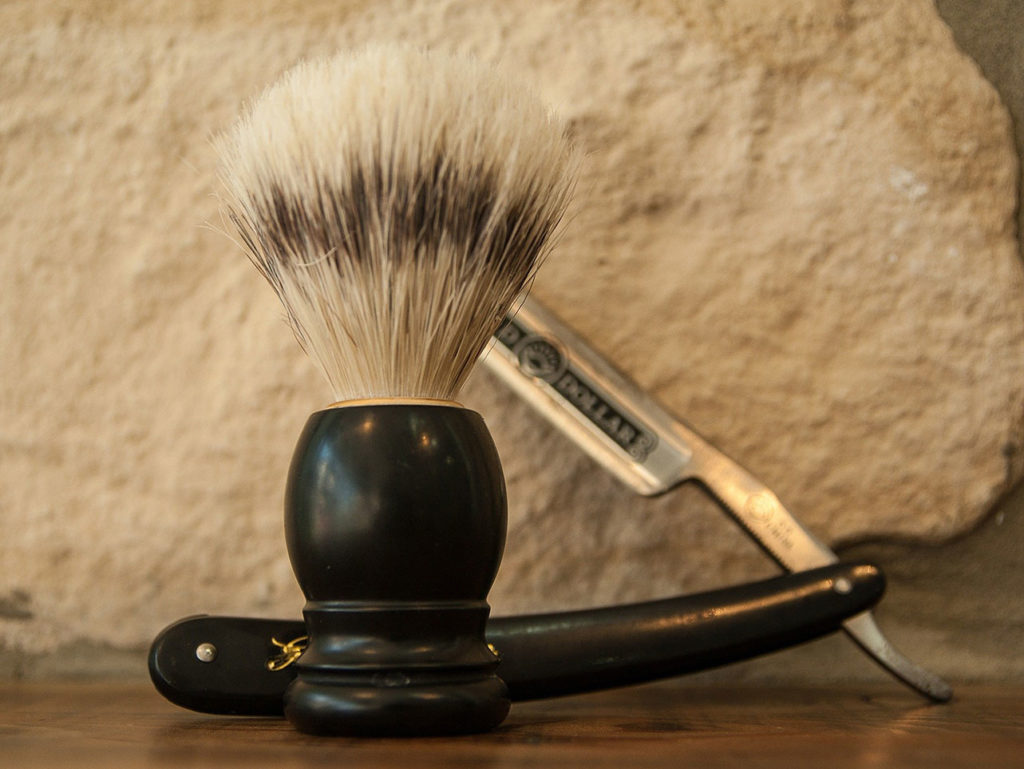 The right floors would typically be a nice pine wood floor, but considering it a bathroom, you may be better serviced by installing a masonite or tile floor that looks just like wood. You could also add brick and stone elements in the same fashion using masonite or tile impersonations of brick kand stone.
Cabinets should be wood with wrought iron hardware and the sink for this design should be ceramic vessel bowl with an open fountain faucet. Sink accessories should be chrome and glass.
You can add masculine elements like old family black and white pictures of tractors and gardens or maybe some pictures of iconic cowboy actors and bull riders.
Lighting in this type of bathroom should be a classic farm design using wrought iron and naked bulbs. It would even work to have a side lamp on a shelf or on the sink counter for accent lighting.
Conclusion
Picking the right barbershop theme for your growing teen isn't hard. You just need to consider his personality and be sure to balance the theme between style and manliness while adding lots of functions. His barbershop bathroom will become his own personal retreat that he will grow into.